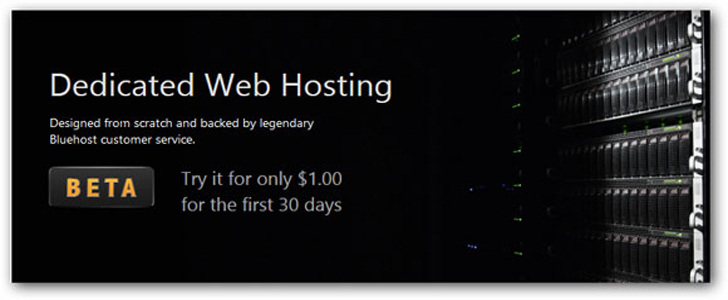 Finally bluehost has lunched it's much awaited dedicated hosting services. The decision was announced back in December 10, 2012 via its official blog that bluehost is going to launch dedicated hosting services. From the very beginning approximately over 10 years it's providing shared hosting services now they are ready to provide their customers who need a little more I mean the much awaited & desired dedicated hosting service. They promised that it will be available earlier in 2013. Finally its available now.
If you are their existing customer you don't have to worry about up-gradation to bluehost dedicated services up-gradation is pretty easy and simple from your existing account to VPS or dedicated hosting.
Bluehost Dedicated Hosting Features:
Here is bluehost dedicated web hosting features that has to offer for you!
Standard:
• Price $149.99
• Dual Core, 2.8Ghz Intel Xenon Processor
• 3MB cache
• 4GB RAM
• 2×500 GB HDD
• 5 TB/month
Enhanced:
• Quad Core, 3.2 Ghz Intel Xenon Processor
• 8 MB cache
• 8 GB RAM
• 2×1000 GB HDD
• 10 TB / month
Premium:
• Quad Core, 3.7 Ghz Intel Xenon Processor
• 8 MB Cache
• 16 GB RAM
• 2×1000 GB HDD
• 15 TB / month
Instant Provisioning: Optimized technology from the ground up. Use your account in seconds instead of hours or days.
Root Access: Complete access and control over your CentOS operating system and server via server management tools.
Enhanced cPanel: One sign on gives access to cPanel, server management, & other same featured tools from shared hosting panel.
Dedicated Support: Get all of your questions answered instantly with exclusive access to a dedicated support line.
Mirrored Storage: Account information & data is automatically protected with RAID 1.
Bundled Resources: All you need standard: dedicated IP, massive bandwidth, & enhanced cPanel.
Storage Upgrades: Easily add more storage to your dedicated server. Like 500GB, 1TB, 2TB to your dedicated server.
Money-back Guarantee: Accounts are non-contractual. You're never locked in; get a no-nonsense refund at any time.
Plans & Pricing
Compering to other dedicated hosting providers its pretty cheap!
Standard:
• Start at $149.99 per month
Enhanced:
• Start at $199.99 per month
Premium:
• Start at $249.99 per month